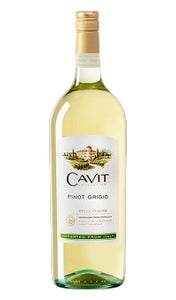 *Packaging May Vary
The principal source of grapes for this wine is Trentino's Adige River Valley. This area is ideal for vineyard cultivation due to its exceptional soil and climatic conditions. It is also recognized for the spectacular natural beauty of the Dolomite Alps.
The grapes are carefully selected and then vinified utilizing the most advanced technology. Cold fermentation in state-of-the-art, thermo-conditioned tanks preserves the natural fruit and inimitable freshness of the wine.
12% abv
Highly versatile. A wonderful aperitif and equally splendid with pasta in cream sauces, risottos, veal, chicken and fresh seafood dishes. Enjoy well chilled.
At our Maso, Cavit has developed its own hospitality and research center which works closely with one of Europe's top centers of viticultural research, Istituto Agrario Provinciale at San Michele all'Adige. The Institute partners with local winemakers and growers, of whom the majority are part of Cavit, the region's principal wine producer.